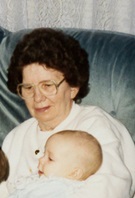 M. Jeannie Cunningham, age 76, of Lawrenceville, Illinois, passed away Tuesday, October 20, 2015 at her residence. She was born August 30, 1939, in Lawrence County, the daughter of Clarence and Myrtle (Medlin) Stallard. She married John J. Cunningham on November 16, 1958, and he died December 16, 2003.
Jeannie owned and operated a children's daycare center for 20+ years. She was a member of First United Methodist Church in Lawrenceville.
Preceding Jeannie in death were her husband, John; one sister, Shirley Prout; one brother, Danny Stallard, and one grandson, Logan Cunningham.
Survivors include a son, Mike (Mary) Cunningham of Lawrenceville; a daughter, Jeannie (Jason) Shoulders of Lawrenceville; one brother, Francis Stallard of rural Lawrenceville; three sisters, Alice Paddick of Lawrenceville, Diana Mullins of rural Lawrenceville and Kathleen LeGout of St. Francisville; four grandchildren, Anthony Cunningham, Zach Shoulders, Chelsea Shoulders, and Tiffany See, along with three great-grandchildren, Adalynn Cunningham, Emily Higgins and Sawyer See.
Funeral services will be 11:00 AM Friday at Emmons-Macey & Steffey Funeral Home in Lawrenceville.
Visitation will be from 10:00 AM to 11:00 AM Friday at the funeral home.
Burial will be in Lawrenceville City Cemetery.
Memorials may be made to First United Methodist Church in Lawrenceville.