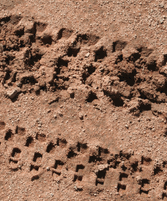 The Knox County Commissioners have denied a request for further development of a dirt bike track on Prullage Road. Commission Members voted 3-nothing last night against a petition by Ryan and Tracy Snyder for a Development of Broad Significance. The Knox County Area Plan Commission gave an unfavorable recommendation to the Snyder's petition last month. Commission President Larry Holscher says its now in the hands of the Snyder's attorney and the Area Plan Commission office to provide a better definition of what's being proposed and if any limitations should be placed on when the dirt bikes are allowed to run.
Neighbors have complained about the constant noise and dust raised by the bikes. Tracy Snyder says she's asked for guidance, but hasn't received much help other than a letter from the Area Plan Commission office ordering the Snyder's to cease their racing activities. Snyder previously stated there is a great deal of interest in dirt bike racing in the community and they are trying to provide a service to give kids something to do.
Holscher again advised the Snyder to have their attorney draft a new request one that falls in line with the county's zoning ordinances.
In other action from last night's commissioner's meeting
The Knox County Commissioners has passed a resolution in support of a workforce development grant. Knox along with Sullivan County and the City of Princeton are applying for a 250-thousand dollar grant the Office of Community and Rural Affairs. It would train up to 50 workers in Industrial Maintenance and Operating Heavy Equipment.
Kent Utt with the Knox County Development Corporation says although the grant will not create any new jobs it will help fill a void for existing jobs in the three counties.
Applicants for the training must meet low to moderate income guidelines.
Utt says The Gene Haas Foundation is providing the 60-thousand dollar local match in order to obtain the grant.
Vincennes University will provide the training for the applicants.
The Commissioners also renewed a contract with KCDC to continue to do economic development on behalf of the county. The county is paying K-C-D-C 48-thousand dollars annually for the work.