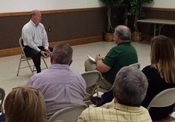 At  a town hall meeting in Washington, 8th District Congressman Larry Bucshon said the main issues facing Congress are the budget and infrastructure..
The GOP Congressman added that the the lack of a budget is pinching the armed forces and health care research.  He also said it was important for the Congress to come up with a long-term highway funding bill.
Other topics of the meeting included the Affordable Healthcare Act, which the Congressman said has the wrong approach although he said the law does contain a few positive aspects.
The congressman also talked about the legalization of marijuana, which he opposes except for medical use under a doctor's supervision.
Bucshon also spoke on the the issue of gun violence.
Buchson said that most of the mass shooters were individuals with serious mental illness and access to firearms.  He said there is much to be done in the area of mental health care.  He indicated there is not a great partisan divide in the Congress on dealing with those mental health issues.  He added that gun violence has to be a debate at the cultural level.  Noting that Chicago has both some of the most stringent gun laws in the country and one of the highest rates of gun violence, Bucshon said that it will take more than laws to make things change, he said it will take a cultural shift.  He says we must decide we will not tolerate any type of violence in our communities.
The congressman also talked about the current Republican leadership problems in the US House.  He said reporters have blown the issued out of proportion…
Bucshon was generally optimistic that the Congressional GOP will elect a speaker within the next month,  earlier if Rep. Paul Ryan will agree to serve.