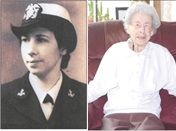 photos from Washington Times Herald
Lt. Jessie Hall is turning 100 years old.   A community birthday party is set for 4 to 6 at the VFW post in Crane Friday
Hall was a member of "WAVES" during World War 2.  WAVES stands for Women Accepted for Volunteer Emergency Service".  The division of the US Naval Reserve was consisted entirely of women and was established in 1942.
The Odon Journal reports that Hall was commissioned an Ensign and first worked for the Naval Ordnance Lab at in Washington DC and later in San Diego as the 11th District Ordnance Officer.  She rose to full Lieutenant and head of the Personnel Department before leaving the Navy in 1945. She and her husband then moved to Crane where she taught elementary school until the school until Crane closed.  She then taught at Loogootee until retirement.
She currently lives in Crane.