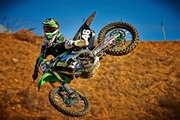 A Vincennes Couple's request to operate a Motocross race track on their property met with objections from several of their neighbors.
Ryan and Tracy Snider sought a zoning change to develop a motocross track on their property on North Prullage Road.
During a public hearing before the Knox County Area Plan Commission last night, neighbors complained about the constant noise and dust generated from racing the motor bikes.
The complaints ultimately led to the Zoning Board giving an unfavorable recommendation to the Snider's request.
Board Member Dick Vermillion indicated while the Snider's intentions were good…the location of the track in a residential area ultimately weighed heavily in the commission's vote.
Tracy Snider argued she and her husband were merely wanting to provide something for their children and other kids who ride motocross bikes something to do and at the same time generate an attraction that would draw business to the community.
The Planning Commission's recommendation will be forwarded to the Knox County Commissioners who will make the final recommendation on the Snider's petition.
.