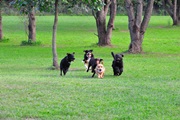 The new Knox County Dog Park continues to move closer to an opening day.
Knox County Parks Superintendent Rama Sobhani told the Vincennes Sun Commercial he's hoping the park will be open for dog lovers by the end of the month.  A ribbon cutting for September he said is still on track.
The Vincennes Animal Shelter will manage memberships once the park is open and dog owners will have to register with the animal shelter and provide vaccination records to become a Dog Park member.
The newspaper says members will receive a combination to locks at two fenced in areas, one for big dogs and one for smaller ones.  The park will be open sunrise to sundown and no lighting will be installed.
Sobahni says more will be added to the park once it opens like picnic tables and dog toys.