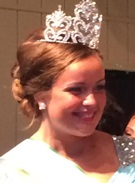 Congratulations to Kristen Downen. The South Knox High School Senior was crowned Knox County 4-H Fair Queen during last night's pageant in the Vincennes University Pavilion.
This is the fourth year Downen has competed in the Fair Pageant and she offered some advice to the 11 other contestants.
1st Runner-up in the Queen Pageant went to Madison Robinson, Carolina Provines was second runner-up, followed by Natalie Byrd and Megan Brown.
On tonight's Fair Schedule, The Tiny Tot contest will take place at the Vincennes University Pavillion at 7 pm. Also this evening there will be a Truck Pull in the Fairground's Grandstand at 8 pm.
For a complete list of activities you go to our website at WVUB-HD.COM.