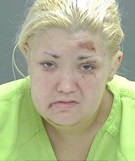 One of the suspects who led police on a chase through Martin and Daviess Counties on Saturday is now in the Daviess County Jail.
30-year-old Candie R. Zito is charged with felony resisting law enforcement, possession of a stolen vehicle and other charges.
Zito and a cousin, 26-year-old Cory Lane Zito were spotted in a vehicle that local authorities were told to be on the lookout for Saturday. The two were wanted in an Alabama homicide investigation from July 5th and were believed to be in the Montgomery area.  After being confronted by police Saturday afternoon, the two sped away in their vehicle east on 50 and crashed east of Shoals.  Both had to be flown from the scene due to injuries.
Candie Zito was booked into the Daviess County Security Center at 8-pm last night.