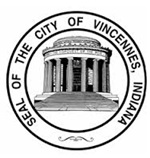 An emergency meeting of the Vincennes Historic Review Board was held last night to discuss tearing down a building at 401 Main Street. City Inspector Phil Cooper says an exterior wall is structurally damaged and in danger of collapsing. The building is occupied by Sweet Treats on one side and Kathy's Kreations on the other. Cooper told H-R-B members he plans on calling an Indianapolis engineering firm today (Tuesday) to have them come inspect the building and give a report on the safety and shape of the building.
Kathy Hartigan, owner of Kathy's Kreations, says she looked into how much it would cost to fix the damaged wall, but it was a pricey at 200-thousand dollars. If the city moves ahead with tearing the building down, the building next to it, Vapors at 405 Main, might have to be torn down as well because of the two structures are connected.
Despite what the public or Historic Review Board wants to happen, Cooper has the final say on the fate of the buildings.