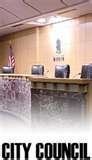 Bicknell Mayor Jon Flickinger is advocating relocating the city's Police Department. Flickinger says something needs to be done after heavy rains last month flooded the lower level of city hall where the police department is currently located.
Plans were drawn up several years ago that would allow the Police Department to relocate into the former Casey's General Store downtown. Myzak and Palmer architects idesigned the plans for the new police station and Flickinger says there's a possibility that they can use inmates from Carlisle Correctional Facility to do dry walling and other work to get the interior of the building ready.
However, Council members remain cautious. Councilman Frank  Gugliotta says he wants more information on how much it's going to cost to relocate phone lines and computer services. Gugliotta added the council will also have to budget for future costs of maintaining the building.
No further action was taken at last night's Council meeting.
---
Bicknell City officials are looking to get rid of an eyesore at South Side Park. Mayor Jon Flickinger says the city had allowed residents to dump their brush and grass clippings in an area set aside for composting. But over the years, Flickinger says the area has become a dumping ground for just about anything.
The Mayor says the illegal dumping continues despite signs being posted. The city has received two estimates to clean the site up. The low bid came from a contractor in Linton for 12-thousand dollars. Bicknell businessman Rod Mullins offered to make a bid to do the work. Council voted to delay taking action on the matter until they have have had a chance to review Mullins bid.