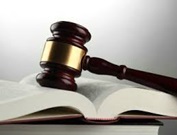 220 new laws took effect in Indiana at the stroke of midnight.
Today marks the first day for the new state budget, and for Indiana's controversial religious-freedom law, as well as the companion law declaring it doesn't authorize discrimination. But it's also the effective date for laws from a tightening of loopholes in the Do Not Call registry, to the legalization of sawed-off shotguns, to the addition of 10 new alcohol permits in and around the Indianapolis Motor Speedway.
Townships can now sell abandoned cemetery plots. And the attorney general's office can now sue companies which help telemarketers evade Indiana's Do Not Call law by supplying phony numbers to fool your caller I-D. Rolling papers are no longer classified as drug paraphernalia as of today.   Also  military reservists called to service are exempt from jury duty.
Another law is a requirement that drivers in the left lanes of multi-lane highways move over for faster vehicles or risk $500 fines.
The minimum age to obtain a driver's license is dropping by three months to 16 years and three months for those who've completed driver education classes.
Another change will allow rape charges to be filed after the five-year statute of limitations has expired if authorities find new DNA evidence or the attacker confesses. That change comes after a man admitted in 2013 to raping an Indianapolis college student nine years earlier but couldn't be prosecuted.
Though some laws have already taken effect, July 1 is the first day for most newly-passed statutes, to coincide with the first day of Indiana's fiscal year.