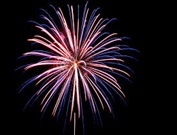 The Vincennes American Legion is seeking some assistance from the public to cover the expense of this year's Fourth of July Fireworks display.
Spokesman Gary Stiles (Styles) says the cost for putting on the fireworks show is continuing to grow and they're asking for the public's support in order to keep the show going.
Stiles says donations can mailed to the American Legion at P.O. Box 823 in Vincennes or they can drop off their contribution at the America Legion Post at 222 North Fourth Street.
Stiles says the American Legion will also be selling cold drinks on Patrick Henry Drive on the 4th of July and people can also make a contribution then.
He says any money left over from this year's fireworks display will be applied to next year's show.