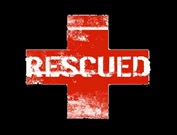 Vincennes police rescued a teen from flood waters Thursday.
Police report that emergency personnel were called to the train bridge in Vincennes where it was reported two people were in the Wabash River.
When police arrived, a girl had already gotten out of the river while a boy was about 40 feet from the bank hanging onto a tree.
A  life vest and rope were used and the boy was pulled to safety.  He was taken to Good Samaritan Hospital for observation.  Names were not released as both the boy and girl are aged 15 to 17.