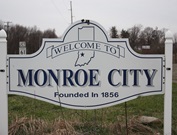 Monroe City Roads are in bad shape, and town officials are reaching out to the county for a solution.
    INDOT has had project going on there for some time and much of the traffic that has been going through Monroe city is being diverted from Highway 61. Although the official detour isn't through Monroe City many people travel the side roads and streets to save time and to avoid traffic. County Commissioner Larry Holcher says Monroe City is struggling and the county will do what it can.
      Cleveland, Johnson and part of Buchanan Streest are all roads in Monroe City that are considered county roads. However, until further notice, the subject of improving the roads is pending.
---
          Knox County officials now have an estimate for the new security system at the Knox County Courthouse. Sherriff Mike Morris says that Vincennes Electronics appraised the system instillation to cost around $33.500. He presented this figure to the Knox County Commissioners on Monday.
The system allows courthouse security to see who comes in and out of the building and at what times. Sherriff Mike Morris says that's essential as currently there's not way to have that information.
 He recommended Vincennes Electronics be the company that installs the equipment. That way, if anything goes wrong the company is in town and can take care of any problems. The County Commissioners said they would take a further look at the matter.