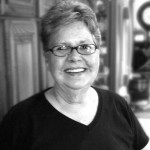 Phyllis Ann Morgan, 70, passed away at 12:30 pm on May 25, 2015 at Gentle Care Nursing Home. Phyllis was born on August 1, 1944 in Mt. Carmel, IL the daughter of Elva and Thelma (Harmes) Nanny. She married John Morgan on April 21, 1964.
Phyllis was a graduate of Oblong High School and had worked as a Teachers Aid for Tecumseh-Harrison Elementary School and for the last thirty-five years as a Nurses Aid at Good Samaritan Hospital. She loved her children and grandchildren and enjoyed sitting on her porch and gardening.
Survivors include her husband, John Morgan of Vincennes; daughters, Mychelle Whitson and her husband Rick of Vincennes, Holly Morgan and her partner Maureen Morgan of Indianapolis; daughter-in-law, Kim Morgan of Zionsville, best friend, Tracey Kahre of Vincennes; brother, Bud Nanny of Mt. Carmel, IL; sisters, Evelyn Allen of Mt. Carmel, IL, Donna Orr of Sullivan, Pam Edwards of Sullivan, grandchildren, Brittney Hamilton and her husband William, Morgan Schutter and her husband Joshua, Taylor Whitson, Hunter Morgan, Rhylen Morgan; and great grandchildren, Alexis, Brielle, and Cade Hamilton. Phyllis was preceded in death by her son, John J. Morgan, twin sisters, Irene Kay and Lorene May Nanny and sister, Jeannie McCrary.
Funeral services for Phyllis will be held at 11:00 am on Saturday, May 30, 2015 at Goodwin Funeral Home, 524 Broadway with Pastor Mike DeCoursey officiating. Friends may visit with Phyllis' famiy from 4-8 pm on Friday at the funeral home. In lieu of flowers, contributions may be made to Good Samaritan Hospital Foundation. On line condolences may be sent at www.goodwinfamilyfh.com.
– See more at: http://goodwinfamilyfh.com/obituary/phyllis-ann-morgan/#sthash.k0KQ9fsV.dpuf