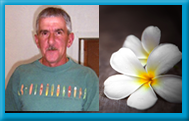 Gary Griffith
Died: May 2, 2015
Gary Griffith, 58, of Vincennes, passed away May 2, 2015, at his home.
Gary worked as a phone and cable repair technician for Frontier Communications. He enjoyed bicycling and rode in the Hilly Hundred. Other hobbies included kayaking, slot cars, and motorcycling. He liked shooting traps with his friends, and his gun collection. The family has fond memories of their time spent vacationing, especially at Myrtle Beach.
A US Air Force veteran, Gary worked with codes in military intelligence, and was cross trained in telephone technology. He was recognized for the extra time and work he put into the projects assigned to him. While in the military, he was stationed in Japan and Texas.
Born April 22, 1957, in Winston – Salem, NC, he was the son of Charles and Bertha (Williams) Griffith. His father, and a brother, Dean Griffith, preceded him.
On April 24, 2004, Gary married Rhonda (Sneed) Griffith, and she survives. Also surviving is his mother, Bertha "Teenie" Griffith of North Carolina; his daughter, Tera Robinson and her husband, Jarrod, of Vincennes; his son, Charles Griffith of Vincennes; his step-daughters, Kelly Shouse and her husband, Kirt, of Petersburg, IN, and Leanne Powell and her husband, Matt, of Monroe City, IN; sisters, Sandra Griffith of Roseboro, NC and Ginger Naylor and her husband, Carl, of Dunn, NC; sister-in-laws, Kim Bauer and her husband, Dan, of Vincennes, and Barbara Snyder and her husband, Lew, of Converse, IN; and his grandchildren, Desirae Griffith, Tyler Griffith, Jada Sherman, Brylee Robinson, Kolten Shouse, Kooper Shouse, and Jake Powell.
Friends may visit with the family from 11:00 – 1:00 on Monday, at Goodwin Funeral Home. The funeral service will begin at 1:00 Monday. Interment will follow at Memorial Park Cemetery, where the American Legion – VFW Firing Squad will provide a military memorial service.
In North Carolina, friends and family may gather at the home of Sandy Griffith for a memorial service, which will begin at 1:00 on Monday.
In lieu of flowers, donations may be made to Good Samaritan Hospital Hospice or Thursday Church. Online condolences may be sent to the family through goodwinfamilyfh.com.
– See more at: http://goodwinfamilyfh.com/obituary/gary-griffith/#sthash.txyaOoss.dpuf