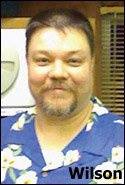 Afternoon Drive with Gil T. Wilson
Having graduated High School from Robinson, Illinois, Gil T. got out to make his first million. He discovered that the U.S. Navy was not the place to get rich but decided to stick around for 6 years.  He served as an operations specialist on the USS McCluskey, USS Arkansas and the USS Enterprise (the Aircraft Carrier not the starship).  All the time volunteering for the Armed Forces Radio Network.  Especially while on board the USS Enterprise for their own station KENT. 
Gil T. then decided to get a degree or two to prove he knew what he was doing and attended Southern Illinois University in Carbondale.  While earning two degrees (B.A. Theatre and B.A. Radio / Television Broadcasting) he worked at the College station WIDB as on-air talent and production director and was president of the production company Radio/Active.
To earn his keep while in school, Gil worked at local radio stations WINI in Murphysboro and WJPF in Herrin. Upon graduation he moved to Kansas City and found out what it was like to work in the corporate radio world.  
First he did a combo position at KFEZ as computer/traffic manager and production assistant.  Then seeking more excitement he moved on to Operations Manager for KCXL.  At this station he created a Kansas City Blues Show that focused on local musicians.
Then Gil got a side job as Studio Engineer / Board Operator for the Kansas City Chiefs Football Radio Network.  This is where the corporate world snuck in.  He was offered a full time engineering / part time on-air job for a Corporate conglomerate of KCFX, KCIY, KXTR, KUPN, KQRC, KCMO – FM, KCMO – AM and the KC Chiefs Network.
Having tired of the corporate world he moved to an independently owned station KPHN.  This station sold out to another corporation and Gil found himself working at KZPL and WHB.
Well after working at several different radio formats and running a couple of stations he decided to come back home and relax.  By relax he means get out of the slamming-up-against-the-wall-with-no-pads corporate radio and come back to a true community serving/entertaining radio station, WAKO and has been here since 2003.