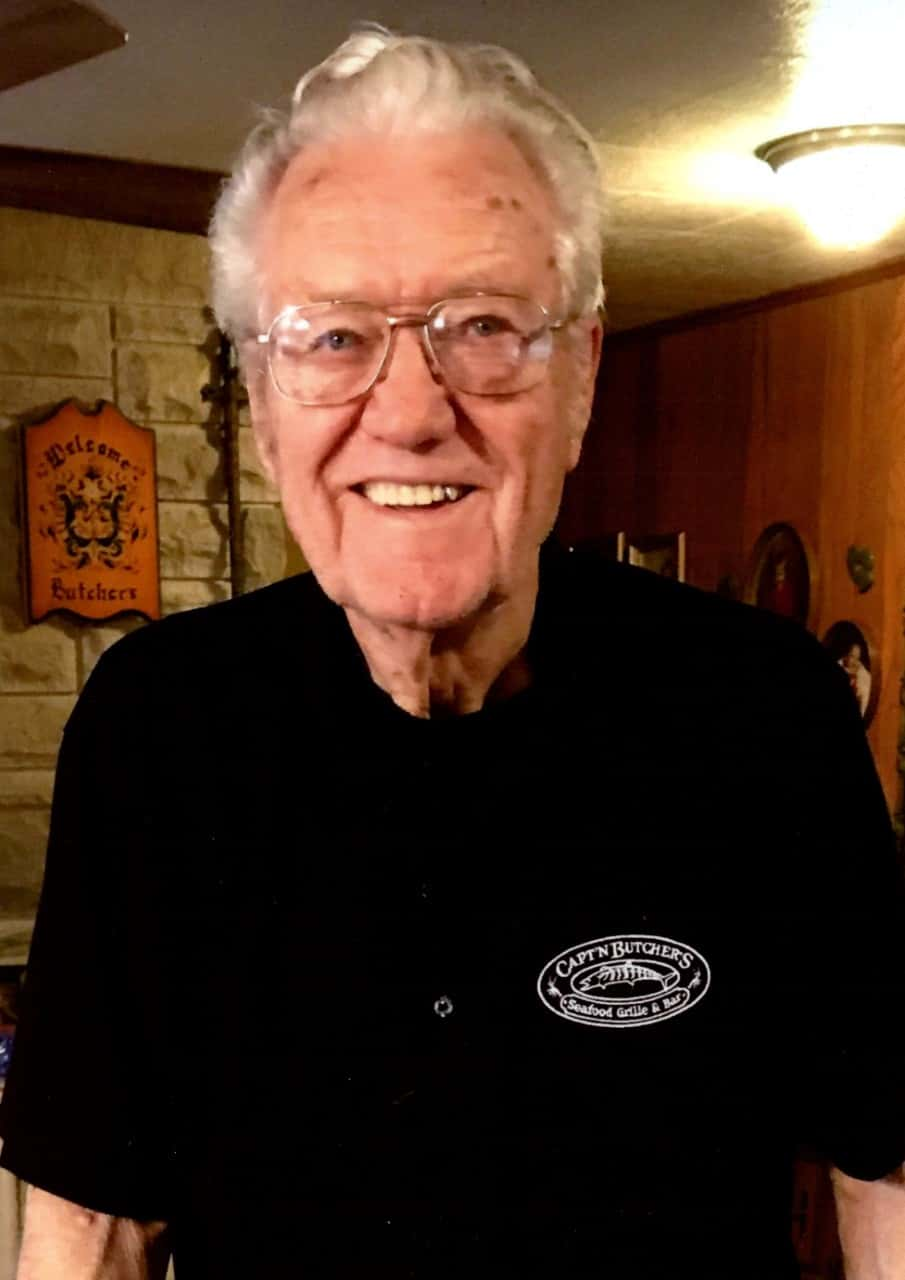 Max L. Butcher, 91, of Flat Rock, IL, died at 9:00 p.m. on Monday, July 27, 2020, in the comfort of his home surrounded by his family. He was born October 3, 1928, outside of Flat Rock, the son of Earl & Lulu Edith (Rich) Butcher, both of whom preceded him in death. He married his childhood sweetheart, Dorothy Purcell, on June 28, 1947, and they were married for 67 years before she preceded him in death on April 10, 2015. He was also preceded in death by his son, Brice Butcher; by his son-in-law, Gary McKee; and by his brothers, Forrest Butcher and Norman Dean Butcher.
He is survived by his children, Sherry McKee (Mt. Prospect, IL), Greg & Beth Butcher (Ft. Pierce, FL), Tina & Danny Dennis (rural Robinson, IL), and by his daughter-in-law, Lori Butcher (rural Flat Rock, IL). He is also survived by his grandchildren, Patrick McKee, Jericho Dennis, Miranda Smothers, Colleen Hankins, Joshua Butcher, Mariah Bell, and Levi Butcher; his great-grandchildren, Parker and Paxton Connelly-McKee, Kellan, Rowyn, and Storey Dennis, Brice David and Remington Butcher, Ezra and Coleman Hankins, and Liberty, Stephen and Sadie Bell; by his sister, Norma "Sis" Wesley; as well as several nieces and nephews.
Max grew up in the Flat Rock area and was a 1946 graduate of Robinson Township High School. He worked a number of jobs through the years as a member of Pipefitters Local #136, with whom he was a member for over 70 years. He was also a 66-year member of the Flat Rock Masonic Lodge #348, as well as a lifelong member of South Union Church. Here, he held many offices over the course of his life, including that of trustee, a role he held for many, many years. He enjoyed helping with much of the repair and upkeep of the building and oversaw the latest expansion of the church. He also participated on a number of church-sponsored mission trips over the years.
In short, Max wasn't one to let dust settle. He was a hard worker who made sure that his life was a productive one. He was decidedly old-school in that he was as strong as he was dependable; but his life was also marked by steadfastness and care. His family, (and in particular, his grandchildren and great-grandchildren), were the beneficiaries of this man's love and concern, and he considered them his crown.
Much like his Heavenly Father, Max was always there when you needed him. We are thankful to have been given the gift of his 91 years with us, and have peace in knowing that these were just the beginning in light of the eternal life he is now experiencing alongside his Savior.
A time of visitation will be held from 4:00-7:00 p.m. on Friday, July 31st at South Union Church (rural Flat Rock, IL). PLEASE NOTE THAT COVID-19 GUIDELINES WILL BE OBSERVED. SOCIAL DISTANCING MEASURES WILL BE IN PLACE, AND IT IS REQUESTED THAT ALL ATTENDEES WEAR FACE COVERINGS.
A masonic service will immediately follow and will be held at 7:00 p.m. on Friday, with the Flat Rock Masonic Lodge #348 conducting the service.
Funeral services will be held at 10:00 a.m. on Saturday, August 1st at the church with Pastor Eric Hankins officiating. Burial will be in the Tohill Cemetery. Memorial contributions may be made to "South Union Church" or to "Good Samaritan Hospice", with envelopes available at the church. The Goodwine Funeral Home in Flat Rock is in charge of arrangements. For more information, or to share a memory or condolence online, please visit www.goodwinefuneralhomes.com.