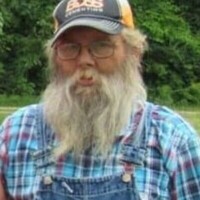 Charles Robert "Charlie" Cooper, age 61 of Bridgeport, passed away unexpectedly at his home due to an apparent heart attack on Friday, July 17, 2020. He was born in Bridgeport on January 2, 1959 to James and Ella (Hampton) Cooper.
Charlie married Anita Wilson, and she survives.
For many years, Charlie worked in the oil fields. He recently worked as a metal scrapper. He was a member of the Bridgeport Moose, Legion of the Moose, and a member of Sons of the American Legion. Charlie was a hard worker, enjoyed the outdoors, and loved his family.
Surviving family includes: his wife- Anita Cooper of Bridgeport: one son- Jason Cooper and wife Maddison of Bridgeport: one step-son- Shawn Shinnebarger of Meredosia: four sisters- Deloris Reeves of Indianapolis, IN, Vickie Howell and husband Jerry of Bridgeport, Laura Carter of Bridgeport, and Julie Cooper of Bridgeport: two brothers- Jim Cooper and wife Sue of Bridgeport and Bradley Cooper and wife Jennifer of Bridgeport: two grandchildren- Brooklyn and Bentley Cooper: and numerous nieces and nephews and great-nieces and great-nephews.
He was preceded in death by his parents, James and Ella Cooper, and one son, Brandon Cooper.
A "walk-through" viewing will take place on Tuesday, July 21, 2020 from 6:00 p.m. until 8:00 p.m. at the Cunningham Funeral Home in Bridgeport. A Moose Lodge ceremony will take place at 8:00 p.m. As per Charlie's wishes, cremation will follow with a private burial in Bridgeport City Cemetery at a later date.
PLEASE NOTE THAT COVID-19 GUIDELINES WILL BE OBSERVED. SOCIAL DISTANCING MEASURES WILL BE IN FORCE, AND FACE COVERINGS ARE ENCOURAGED WHEN SOCIAL DISTANCING CANNOT BE MAINTAINED.
Online contributions can be sent to the family at www.cunninghamfuneralhomes.com.