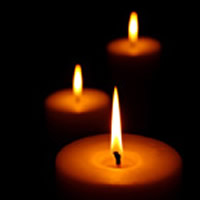 Delphia L. "Deb" Gunzel, age 73 of St. Francisville, passed away Tuesday, May 19, 2020 at Meadowood Nursing Home in Grayville. She was born June 20, 1946 in Lawrenceville to Henry and Marilla (Moyes) Wease.
On November 7, 1964, Deb married Gayle Gunzel. He preceded Deb in death on March 21, 2016.
Deb was a homemaker to her family, worked locally for Community Care, and enjoyed singing Karaoke.
Surviving relatives include: her two sons- William L. Gunzel, Sr. and friend Kathy Edgin of Lukin Township and Fredd Gunzel and partner Jeremy Chase of Orlando, FL: one brother- David Wease and wife Diane of Crossville: two grandchildren- Paul Gunzel and Kimberly (Gunzel) Sullens: and nine great-grandchildren.
She was preceded in death by: her parents- Henry and Marilla Wease: her husband- Gayle Gunzel: one grandson- William L. Gunzel, Jr.: and one sister- Mary Harrington.
Due to the COVID-19 outbreak and the State of Illinois mandates and requirements, services for Delphia L. "Deb" Gunzel will be private. A graveside service will be held for at 2:00 p.m. on Saturday, May 23, 2020 at the Moffett Cemetery of rural St. Francisville. Cunningham Funeral Home is in charge of arrangements.
Online condolences can be sent to the family at www.cunninghamfuneralhomes.com.