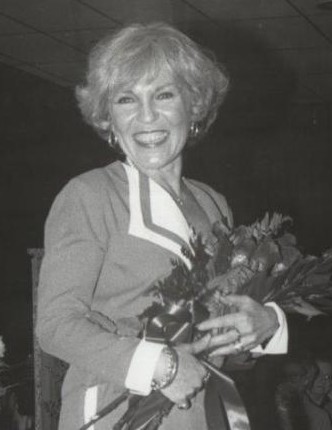 Ayrol Ann Gibson, 88, of Lawrenceville, Illinois passed away Friday March 13, 2020 at the Columbus Transitional Care in Columbus, Indiana. She was born September 29, 1931 in Indianapolis, Indiana the daughter of Wendell and Elizabeth (Johnson) Boyd. On October 30, 1971 she married Cary Gibson. He survives.
Ayrol Ann owned and operated Delzells ladies dress shop in Lawrenceville, Illinois after moving here from Muncie, Indiana where she had worked as a receptionist for Kim's Paint Company. The store known as Delzells was purchased in the late 1960's by Ayrol Ann and her husband who agreed to retain the name due to the long history of the business on the Lawrenceville square. The store continued the tradition of women's ready wear and yard goods and sewing notions with little change in the operations. In 1969, Ayrol Ann acquired her husband's interest and then purchased the building a few years later. After taking over the management of the store, she began to update the Delzells image.
In 1974, there were major changes and remodeling, both interior and the exterior. Carpet, clothing racks, shelves, office, and check-out counter were replaced; the expansion of junior sportswear replaced the yard goods and sewing area which were discontinued. In 1979, Ayrol Ann brought her daughter Deborah into the business. A gift shop was added in the basement in the 1980's. Delzells was a landmark on the Lawrenceville Courthouse Square for more than 50 years. Ayrol Ann nurtured the business for over three decades before closing in 1995. Her father was the one who encouraged her retail career. She was a member of the First Christian Church in Lawrenceville, Illinois where she sang in the choir. She was also a member of Delta Theta Tau.
Preceding her in death were her parents, one brother David Boyd and one son Boyd Herrin.
Survivors include her husband Cary, children: Deborah Holt of Vincennes, Indiana, Laura Beth Zeller and husband Scott of Toledo, Ohio, Andy Herrin and wife Kathleen of North Vernon, Indiana, and Caryn Gibson Fisher and husband Jason of Charlottesville, Virginia. Nine grandchildren: Zachary Holt, Aaron Holt, Josh Horn, Season Barrett, Isabelle Snycz, Sebastin Snycz, Robbie Craven, Jessica Craven, Taylor Herrin, Ethan Herrin and several great-grandchildren.
Funeral services will be Wednesday, March 18, 2020, 11:00 a.m CST at the Emmons-Macey & Steffey Funeral Home. Visitation will be Wednesday 10:00 a.m. until the service hour of 11:00 a.m. CST. Burial will be in the Lawrenceville City Cemetery.
Memorial donation may be made to the Alzheimer's Association. Please visit www.emmonsmaceysteffey.com to view the tribute and to send condolences.