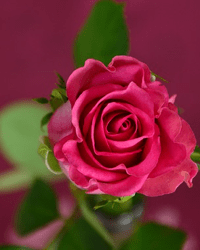 Geraldine 'Gerry' York, age 89, of St. Francisville, Illinois stepped into Glory to meet her Lord and Savior on Friday, February 14, 2020, surrounded by her loving children.
Gerry was a busy homemaker with baking, canning, and cross stitching many quilt blocks. She and her late husband, 'Rudy', delivered Meals on Wheels and happily babysat grandchildren and great-grandchildren. Gerry was also a long-time member of the Christian Church, where you could find her preparing communion, as well as helping at VBS and youth group 'Crusaders Program' outreach for the community children. Another pleasure she found was helping to cater meals for the Women's Club.
Gerry was born at home on Adams Corner in Wabash County, Illinois to parents, Stanley and Brittie (Thompson) Pierson, and enjoyed growing up with six siblings. In June of 1950, she married Paul A. 'Rudy' York, Jr., who proceeded her in death in 2004. They had three children: Thomas A. York of Lawrenceville, Illinois, Rebecca Kay (Danny) Stout of Sumner, Illinois, and Timothy Paul York of St. Francisville, Illinois who survive. They also enjoyed three grandchildren: Jeremie Stout (Jessica Scott) of New Baden, Illinois, Jami Stout Hedrick of Kevil, Kentucky, and Jarrad Paul Stout (deceased). Another addition to the family were three great-grandchildren: Jesse, Mason, and Mackenzie Hedrick of Kevil, Kentucky, and one step-great-grandchild: Nicholas Ervin of Rochester, New York. Gerry is also survived by one sister: Ethel Floy Smith of Portage, Indiana; one brother and sister-in-law: David (Jean) Pierson of Bridgeport, Illinois; as well as several nieces and nephews.
Gerry was preceded in death by her parents; husband; two sisters and brothers-in-law: Bonnie (Kenneth) Worstell and Judy (Hershel) Thompson; two brothers and sisters-in-law: Barnett (Kathleen) Pierson and Alfard (Donna) Pierson; one brother-in-law: Theron Smith; and one grandson: Jarrad Paul Stout.
She touched many lives with her servitude and kindness. Heaven is blessed for her homecoming.
Funeral services will be conducted on Tuesday, February 18, 2020 at 11:00 AM at the Christian Church in St. Francisville, Illinois. Visitation will be on Tuesday from 10:00 AM until 11:00 AM at the church. Burial will be in the Oaklawn Cemetery. Memorial donations may be made to the Christian Church Youth Group or the St. Francisville Women's Club. Emmons-Macey & Steffey Funeral Home in Lawrenceville, Illinois is in charge of the arrangements.
Please visit www.emmonsmaceysteffey.com to view the tribute and to send condolences.