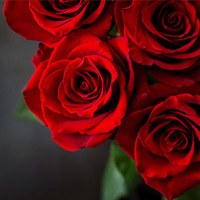 Wanda Shoulders Hudspeth, age 89 of Bridgeport, passed away at her home surrounded by her loving and grateful family on Sunday, February 9, 2020. She was born at her family's home in rural Bridgeport on December 8, 1930 to Lou Cox and his wife Daisey (Faith) Cox.
As a young woman, Wanda met and married the love of her life, Sylvester "Beck" Shoulders. They had nine children together. Sylvester preceded Wanda in death in 1977. She was fortunate then to have met and married Gerald "Gene" Crump whom preceded her in death in 1999. Marvin Hudspeth was Wanda's third husband. He preceded her in death in 2008.
Wanda was a loving homemaker to her nine children and their families as they became adults. She absolutely loved her family! The caretaker in her was evident as she worked as a home healthcare aid, and she also had been an AVON representative.
Wanda was a member of the Calvary Apostolic Church of Lawrenceville, VFW and American Legion Auxiliaries, and the Bridgeport and Lawrenceville Moose Lodges.
Surviving family includes: eight children- Sharon Kercshner and husband Jerry of Lawrenceville, Shirley Koberstein and husband Kenny of Princeton, IN, Daniel Shoulders and wife Jane of Lawrenceville, Rebecca Churchwell Gann of Vincennes, IN, Robert Shoulders of Vincennes, IN, Terry Dean Shoulders of Bridgeport, LaJuana "Susie" Dowty and husband Randy of Sumner, and Anita Gerardi and husband Tommy of Sun City, AZ: 20 grandchildren- Scott Kerschner, David Kerschner and wife Dena, Regina Dillworth, Ira Hull and wife Amy, Tracey Price and husband Jordi, Brian Waldorf and wife Samantha, Kody Koberstein, Daniel Shoulders, Jr., Justin Shoulders, Cody Shoulders, Teresa Neighbors and husband Brett, Brent Churchwell, Bradley Churchwell, Ashlee Marie Chavez, Jacob Robert Shoulders, Staci Deweese and husband Brandon, Rusty Dowty and wife Jessi, Jeremy Shoulders, Jessica Tully and husband Brandon, and Brandon Shoulders: 47 great-grandchildren: 8 great-great-grandchildren: and numerous nieces and nephews.
She was preceded in death by: parents- Lou and Daisey Cox: first husband- Sylvester "Beck" Shoulders: one son- Leroy Allen Shoulders: second husband- Gerald "Gene" Crump: third husband- Marvin Hudspeth: and seven siblings.
A funeral service will be held at 2:00 p.m. on Wednesday, February 12, 2020 at the Cunningham Funeral Home in Bridgeport. Visitation will be at the funeral home on Tuesday evening from 6:00 p.m. until 8:00 p.m. There will be an additional hour of visitation Wednesday morning prior to the funeral service at 2:00 p.m. Burial will take place in the Bridgeport City Cemetery (Shiloh Cemetery).
Memorial contributions can be made to the group or organization of the donor's choice. Online condolences can be sent to the family at www.cunninghamfuneralhomes.com.