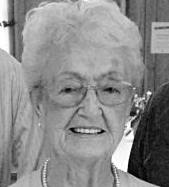 Betty Jane Hall, age 94 of St. Francisville, passed away Monday, October 7, 2019 at Shawnee Hills Senior Living Center Shawnee, KS surrounded by her family.
She was a great baker and made a mean cinnamon roll. Her chicken and noodle dinners were legendary across the family and she loved to host family and friends. She was loved and cherished by her children and grandchildren, the latter of whom remember fondly the many wonderful summer time weeks staying with her and enjoying St. Francisville. She was a devout Christian woman who was quick to help friends and family whenever and however needed. She'll be deeply missed.
She was born in St. Francisville on March 12, 1925 and married the love of her life, Mack Hall, in 1946 and they lived Rockford Illinois. A few years after Mack's death in 1974 when returned to St. Francisville.
Betty graduated from St. Francisville High School where she was a cheerleader. She was a loving homemaker to her family, a long-time member of the United Methodist Church of St. Francisville, and dedicated much of her time to the St. Francisville Senior Center.
Surviving family includes: her three children- Reggie Hall (Karen) of Lake Lure, NC, Debbie Carmichael (Dave) of Shawnee, KS, and Danny Hall of Grandville, MI: her twin sister- Patty Feioch of St. Francisville: six grandchildren: and 15 great-grandchildren.
She was preceded in death by: her parents- Leland and Venna Gray: two brothers- Gene Gray and Mort Gray: and two sisters- Gerry Brian and Margie Auerswald.
A funeral service for Betty Jane Hall will be held at the United Methodist Church in St. Francisville at 11:00 a.m. on Saturday, October 12, 2019. Visitation will be at the church from 9:00 a.m. until service time at 11:00 a.m. Burial will be in Oaklawn Cemetery. Betty's family would like to invite her friends and family to come to the St. Francisvile Senior Center following all services.
Memorial contributions can be made to the St. Francisville Senior Center directly or through the funeral home. Online condolences can be sent to the family at www.cunninghamfuneralhomes.com