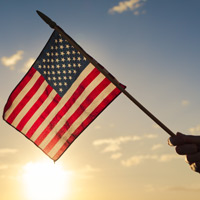 Lester Lee Glenn, age 68 of St. Francisville, passed away Friday, June 28, 2019 at Good Samaritan Hospital. He was born April 11, 1951 in Lawrenceville to Melvin L. Glenn and his wife Lela Marie (Wells) Glenn.
As a young man, Lester served his country during the Vietnam War as a member of the United States Air Force for 6 years. He then joined the Army National Guard for 14 ½ years. Lester was a member of the Free Methodist Church of St. Francisville. He was a member of the American Legion Post #947 where he acted as Post Commander for 1 year. Lester was also proud of his service on the Denison Fire Protection District where he served as the Financial Officer for a number of years. Lester worked for Snap-On Tools for 28 years. Once Snap-On closed, he then worked as a security guard at Good Samaritan Hospital.
Surviving family includes: four sons- Edward Joseph Glenn and wife Stacee of Linton, IN, Adam Eugene Glenn and wife Michele of Lawrenceville, Jeremy Lee Glenn and wife Shannon of Middlesboro, KY, and Oliver David Glenn and wife Sierra of Bridgeport: former wife- Corita Glenn of St. Francisville: one sister- Freda Daniels and Bill of Vincennes: two brothers- Robert Glenn of Allendale and Fred Glenn and wife Theresa of St. Francisville: six grandchildren- Ashtynn Powell, Kaylee Smith, Daniel Glenn, Owen Glenn, Lucas Glenn, and Ian Glenn.
He was preceded in death by: his parents- Melvin and Lela Glenn: one brother- William "Bill" Glenn: and one grandson- Alexander Glenn.
A memorial service will be held at 4:00 p.m. on Tuesday, July 2, 2019 at the Free Methodist Church of St. Francisville. Cunningham Funeral Home is assisting the family.
Memorial contributions can be sent to St. Jude Children's Research Hospital in memory of Lester Glenn. Online condolences can be sent to the family at www.cunninghamfuneralhomes.com.