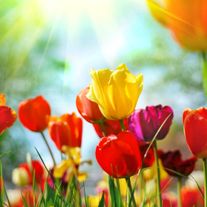 Iva Mae Carter Orr, age 87, of Lawrenceville, Illinois passed away Monday, February 11, 2019 at Good Samaritan Hospital in Vincennes, Indiana. She was born June 23, 1931 in Creal Springs, Illinois, the daughter of William O. and Clara (Simmons) Chism. She married Donald L. Carter on April 28, 1951 and he preceded her in death on January 13, 1980. She then married Roger L. Orr on September 8, 1990 and he preceded her in death on October 22, 2013.
Iva Mae started her working career at Dr. Fahnestock's office, she was then the secretary for the local Texaco Oil Refinery Union, the supervisor for the Lawrence Township, and served as secretary of the Ambraw Credit Union for 35 years. In her earlier years, she was very active in her children's activities, including 4-H, Camp Fire Girls, Cub Scouts, and MYF. She was active with the Salvation Army, Gray Lady at the Lawrence County Memorial Hospital, and the Home Extension. She was a member of the First United Methodist Church, where she taught Bible School and was very active with the church activities.
Preceding her in death were her parents; husband, Donald; husband, Roger; four brothers; and three sisters.
Survivors include one son, Jeffrey Carter and wife, Sarah, of Newton, Illinois; two daughters, Julie Thomas and husband, Tom, of Vincennes, Indiana and Jeanne Steffey and husband, Doyle, of Flat Rock, Illinois; two step-daughters, Julie K. Milligan and husband, David and Sherry D. Orr; two sisters, Edith Miller of Lawrenceville, Illinois and Betty Heuer and husband, Lowell, of Evansville, Indiana; four grandchildren, Seth Carter, Ethan Carter, Carter Steffey, and Casey Davidson and husband, Clint; and one great-grandchild, Fletcher Davidson.
Funeral services will be Saturday, February 16, 2019 at 1:00 PM at the Emmons-Macey & Steffey Funeral Home in Lawrenceville, Illinois. Visitation will be Saturday from 10:00 AM until 1:00 PM at the funeral home. Burial will be in the Lawrenceville City Cemetery. Memorial donations may be made to the Salvation Army or Lawrence Crawford Association for Exceptional Citizens.
Please visit www.emmonsmaceysteffey.com to view the tribute and to send condolences.