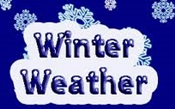 The National Weather Service has issued a Winter Storm Warning for the WAKO listening area from 6 pm Friday through 6 am Sunday. A winter storm system is expected to track across the southern plains today.
As the system moves east toward the southeastern US snow will spread into central Illinois tonight and continue through the day Saturday. Some of the snow will become mixed with rain on Saturday, mainly in areas along and south of I-70. Total snowfall of 7-9 inches is expected to occur along and south of a Rushville
to Lincoln to Danville line, with 5 to 7 inches of snowfall expected north of this line. Most of the snow will occur between 6 pm this evening and 6 pm Saturday evening, when 5 to 8 inches is expected. The highest amounts of snow will occur over southwest Illinois where totals could reach 8 to 9 inches.