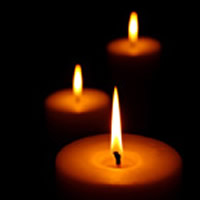 Ronald "Ron" Croslow, age 83 of Lawrenceville, passed away Sunday, November 25, 2018 at Lawrence County Memorial Hospital. He was born April 18, 1935 in Lawrenceville to John L. Croslow and his wife Bonnie (Lucas) Croslow.
On November 18, 1955, Ron married Myra Fielden at the First Baptist Church parsonage in Lawrenceville, and she survives.
Ron worked at and retired from Firestone Tire and Rubber in Decatur. Ron attended the First Baptist Church of Lawrenceville when he was able. He enjoyed watching football games, hunting, and fishing.
Surviving family includes: his wife of 63 years- Myra Croslow of Lawrenceville: three sons- Alan Croslow and wife Theresa of Arcola, Tony Croslow and wife Julie of Lake City, and Michael Croslow and wife Jennifer of Lerna: five grandsons-Jared, Chris, Drew, Matthew, and Austin Croslow: five great-grandsons: three great-granddaughters: four brothers- Jerry, John, Jack, and Rick Croslow: one sister- Sheila Roush: and several nieces and nephews.
He was preceded in death by his parents; John L. and Bonnie Croslow, and four brothers; Webster, Mickey, Gene, and Steve Croslow.
A funeral service for Ronald "Ron" Croslow will be held at 1:00 p.m. on Wednesday, November 28, 2018 at the Cunningham-Young Funeral Home in Lawrenceville. Visitation will be held from 11:00 a.m. until service time at 1:00 p.m. Burial will take place in the Lawrenceville City Cemetery.
Memorial contributions can be made to the Lawrenceville Senior Citizens directly or through the funeral home. Online condolences can be sent to the family at www.cunninghamfuneralhomes.com.