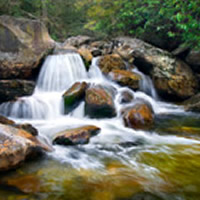 Evertt Wayne Harris, age 45 of Claremont and formerly of Chauncey, passed away at his home on Wednesday, November 21, 2018. He was born in Mountain Grove, MO on September 18, 1973 to Charles "Corky" Harris and his wife Cathryn (Littlejohn) Harris.
On July 29, 1991, Evertt married Michelle Stokes. She survives.
Evertt was a family man. He loved spending time with his wife, kids, and grandkids. He was a trucker and had operated his own trucking company. He enjoyed his motorcycles too.
Surviving family includes: his wife- Michelle Harris of Claremont: his parents- Charles "Corky" and Cathryn Harris of Trimble: three children- Presley Harris and wife Talee of Palestine, Angel Wilson and husband Brady of Olney, and Tobby Harris and wife Sammantha of Oblong: one brother- Charles Harris, Jr. and wife Amanda of Palestine: one sister- Florence "Sissy" Harris of Robinson: and five grandchildren with one more on the way- Jayden Nutoni, Destiny Harris, Alliah Harris, Bentlee Harris, Carlee Wilson, and Paislee Harris on the way.
He was preceded in death by: one son- Preston Harris: one brother- Wayne Harris: one sister- Kathy Harris: paternal grandparents- Junior and Florence Harris: maternal grandparents- Charles Littlejohn and Virginia Peterson: and his best friend- Ralph Carter.
A funeral service will be held for Evertt Wayne Harris on Tuesday, November 27, 2018 at 1:00 p.m. at the Cunningham Funeral Home in Bridgeport. Visitation will be held from 11:00 a.m. until service time at 1:00 p.m. Burial will take place in Bridgeport City Cemetery (Shiloh).
In lieu of flowers, memorial contributions can be made to Cunningham Funeral Home to assist the family. Online condolences can be sent to the family at www.cunninghamfuneralhomes.com.