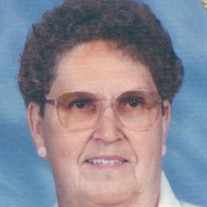 Isabell Volkman, 81, of Lawrenceville, Illinois passed away Tuesday, August 7, 2018 at the Lawrence County Memorial Hospital in Lawrenceville, Illinois. She was born February 10, 1937 in Terre Haute, Indiana, the daughter of James and Juna A. (Parker) Frederick. She married Roy L. Volkman on January 15, 1955 and he preceded her in death on December 31, 2012.
Isabell was a homemaker. She attended the Wesleyan Church, where she sang in the choir. Her hobbies included crocheting, knitting, and baking.
Preceding her in death were her parents; husband, Roy; five brothers, Jimmy Frederick and Randolph Frederick, Henry Frederick, Earl Frederick, and Sherman Frederick; and four sisters, Rozella Truitt, Betty Eck, Sarah Crump, and Dorothy Lewis.
Survivors include one son, Ronald Volkman and wife, Joetta, of Evansville, Indiana; one daughter, Paula Waller and husband, Steve, of Phoenix, Arizona; and three grandchildren, Marisa and Kelsey Volkman and Brandon Waller.
Funeral services will be Monday, August 13, 2018 at 1:00 PM at the Emmons-Macey & Steffey Funeral Home in Lawrenceville, Illinois. Visitation will be Monday from 11:00 AM until 1:00 PM at the funeral home. Burial will be in the Lawrenceville City Cemetery. In lieu of flowers, memorial donations may be made to the Lawrenceville Free Methodist Church.
Please visit www.emmonsmaceysteffey.com to view the tribute and to send condolences.