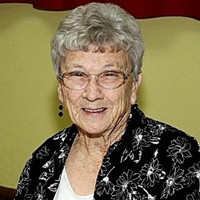 Betty Eloise Vandament, age 90 of Lawrenceville and formerly of Bridgeport, passed away Wednesday, August 8, 2018, at the Lawrence County Memorial Hospital. She was born January 10, 1928 in Omaha, NE to Ernest Lewis Farren and his wife Bethel (Parker).
On February 1, 1947, Betty married Harold Dudley Vandament. He preceded her in death on July 16, 2008.
Betty graduated from Lawrenceville High School in 1945 and furthered her education by graduating from Indiana Business College. She went to work for an attorney, George Lackey. Later, Betty became an EMT and worked at the hospital for several years. Girl Scouts was an important part of Betty's life for 40 years. As a long-time member of the First United Methodist Church of Bridgeport, Betty was very active in the United Methodist Women's group. She was also a member of Beta Sigma Phi since 1949. Rounding out Betty's numerous activities and volunteer work was her dedication to delivering Meals On Wheels to senior citizens in the community, volunteering for several years with Hospice of Southeastern Illinois, and being a member of the Hospital Auxiliary.
Surviving family includes: three daughters- Vicki Tracy Cretors and husband Phil of Bridgeport, Melinda Burchfield and husband Mark of Neosha, MO, and Gloria Ackman and husband Dan of Newport, NY: nine grandchildren- Angela Tracy Downing, Tami Tracy Barrett, Jehiah Burchfield, Aaron Ackman, Elisha Burchfield, Shiloh Burchfield, Solomon Burchfield, Rebekah Burchfield McCleary, and Simeon Burchfield: three step-grandchildren- Gene Tracy, Kathleen Tracy McDaniel, and Jim Tracy: twenty-four great-grandchildren: seven step-great-grandchildren: and three great-great-grandchildren.
She was preceded in death by: her parents- Ernest Lewis Ferren and Bethel Martin: her husband of 61 years- Harold Dudley Vandament: and two brothers- Ernest Ferren II and G. Dick Ferren.
A funeral service for Bettty Eloise Vandament will be held at 10:00 a.m. on Saturday, August 11, 2018 at the First United Methodist Church in Bridgeport. Visitation will be held Friday evening from 6:00 p.m. until 8:00 p.m. at the Cunningham Funeral Home in Bridgeport. Burial will take place in Cresthaven Memorial Park Cemetery near Claremont.
Memorial contributions can be made to the Bridgeport Senior Citizens. Online condolences can be sent to the family at www.cunninghamfuneralhomes.com.