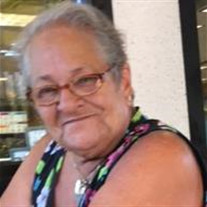 Pauline Hale Lytis, 79, of rural Sumner, Illinois passed away Thursday, July 5, 2018 at her residence. She was born May 7, 1939 in Hibbing, Minnesota, the daughter of Robert and Ann Margaret Hale. She married John R. Lytis on September 8, 1957 and he preceded her in death on October 29, 2004.
Pauline was a cleaning specialist. She was an avid reader; and loved watching movies and going to the casino. Family was very important to her and she enjoyed being with her friends. She was a member of the St. Lawrence Catholic Church.
Preceding her in death were her parents; husband, John; and one brother, Robert Hale.
Survivors include three sons, John (Elisa) Lytis of Robinson, Illinois, Tony (Janet) Lytis of Indianapolis, Indiana, and Bob (Susan) Lytis of rural Sumner, Illinois; one daughter, Kathryn (Mark) Anderson of Indianola, Iowa; one sister, Laura (Alan) Cole of Olney, Illinois; eight grandchildren, Joshua, Jayden, Miles, Ian, Dustin, Jessica, Daniel, and Josh; and nine great-grandchildren.
A mass of Christian burial will be conducted on Saturday, July 7, 2018 at 10:00 AM CST at the St. Lawrence Catholic Church in Lawrenceville, Illinois. Visitation will be Saturday from 9:00 AM until 10:00 AM CST at the church. Burial will be Tuesday, July 10, 2018 at 10:00 AM CST at the Cambridge Cemetery in Cambridge, Iowa. In lieu of flowers, memorial donations in Pauline's memory may be made to the Lawrence County Cancer Resource Center & Wig Shoppe, Helping Hands of Lawrence County, or Story County Responders Care. Emmons-Macey & Steffey Funeral Home in Lawrenceville, Illinois is in charge of the arrangements.
Please visit www.emmonsmaceysteffey.com to view the tribute and to send condolences.