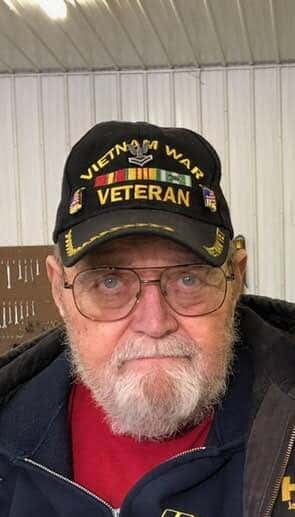 Arthur Guy "Artie" Hartz, 71 of Bridgeport, passed away Saturday, June 2, 2018 at the Good Samaritan Hospital in Vincennes, IN. He was born November 27, 1946 in Vincennes, IN to John William "Jack" Hartz and his wife Mary Elizabeth (Loveless) Hartz.
Artie met the love of his life, Judy Jo Yount, on a blind date. They married in Vincennes, IN at the Bethlehem General Baptist Church on July 10, 1966. They enjoyed 51 ¾ years of marriage.
After graduating from Lawrenceville Township High School in 1965, he proudly served his country as a member of the United States Navy. Artie served in two tours during the Vietnam War as a Boatswain Mate 2nd Class Petty Officer. Following his service, he furthered his education at Olney Central College and Frontier Community College. He and Judy attended the Free Methodist Church in Bridgeport. He worked at and retired from his dedicated work as a cable television technician/installer. Throughout his career, he worked for Full VU Cable Television, Rifkin and Associates/Wabash Cablevision. He also worked as an EMT for Mercy Ambulance Service. He was a life-time member of the Disabled American Veterans (DAV), a life-time member of the VFW Lawrenceville Post 2244, and a member of the Lawrenceville American Legion. Artie served his community as a member of the Bridgeport Fire Protection District for many years throughout the 70's and 80's. While on the BFPD, he served as Captain.
Artie was given the nickname "The Miracle Man" after surviving triple bypass surgery, surviving cardiac arrest two days in a row, and spending 43 days in Good Samaritan Hospital.
Artie enjoyed fishing, traveling in he and Judy's Class C motor home all throughout the United States and Canada, and camping at Sullivan Lake with their friends. He loved watching the Chicago Bears and had actually met Mike Ditka.
Family surviving Artie include: his wife- Judy Jo (Yount) Hartz of Bridgeport: one son-Russell Joseph Hartz and his wife Michelle (Fossmeyer) of Lawrenceville: one daughter- Heidi Michelle Sutherlin and her husband Stephen of Bridgeport: one brother- John Thomas Hartz and his wife Karen of Bridgeport: one God Granddaughter- Heather Marie Miller: two Granddaughters- Allisha Nicole Hartz and Chastity Maria Grace Sutherlin: one Grandson- Jonathan Isaiah Matthew Sutherlin: and several nieces and nephews.
He was preceded in death by: his parents- John William "Jack" Hartz and Mary Elizabeth Hartz: and two sisters- Sarah Sue Denind and Mary E. Hartz (in infancy).
A funeral service for Arthur Guy "Artie" Hartz will be held at 11:00 a.m. on Friday, June 8, 2018 at the Cunningham Funeral Home in Bridgeport. Visitation will be held at the funeral home on Thursday evening from 4:00 p.m. until 8:00 p.m. Burial will take place in Lawrenceville City Cemetery. Military rites will be given at the cemetery.
Online condolences can be sent to the family at www.cunninghamfuneralhomes.com.