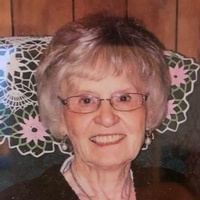 Alice Mae Fortner Baker, age 87 of Lawrenceville and formerly of St. Francisville, went peacefully to be with her Lord on Wednesday, May 9, 2018 at her residence. She was born December 29, 1930 in Newman, IL to Rev. Kenneth V. Hanley and his wife Laura (Warnes) Hanley.
On July 4, 1948 in St. Francisville, Alice married Forest "Nub" Fortner. Nub preceded her in death on October 4, 2006. Alice then married Marion Baker on January 8, 2013, and he survives.
Alice grew up in the Evangelical United Brethren Church of St. Francisville. She more recently had become a member of the Sumner Free Methodist Church. Alice had been very active in the St. Francisville Women's Club, and she had worked at McKim's IGA, Coach's Insurance in St. Francisville, and Cannon's Furniture. She had always been a loving homemaker to her family and loved babysitting her grandchildren.
Surviving family includes: her husband- Marion Baker: one daughter- Barbara Dunn and her husband Jim of Lawrenceville: four granddaughters- Kristi Miller of St. Francisville, Jamie Schultz and husband Lonnie of St. Francisville, Kari Parsons of Lawrenceville, and Amy Jacobson and husband Alan of Madison, WI: and eleven great-grandchildren- Gage McIntosh, Jayden, Wade, and Ellie Miller, Ryan and Luke Schultz, Alivia Lewis, Abel Parsons, Linnea and Braydon Jacobson, and Kailyn Shoulders.
She was preceded in death by: her parents- Rev. Kenneth and Laura Hanley: her first husband- Forest "Nub" Fortner: her son- Donald Ray Fortner: her brother- Robert Hanley: and her sister-Phyllis Griffiths.
A funeral service celebrating the life of Alice Mae Fortner Baker will be held at 3:00 p.m. at the Cunningham-Young Funeral Home in Lawrenceville on Saturday, May 12, 2018. Visitation will be held at the funeral home from 1:00 p.m. until service time at 3:00 p.m. Burial will take place in Oaklawn Cemetery in St. Francisville.
Memorial contributions can be made to the Lawrence County Cancer Resource Center and Wig Shoppe, Good Samaritan Hospice, or the Sumner Free Methodist Church. Online condolences can be sent to the family at www.cunninghamfuneralhomes.com.