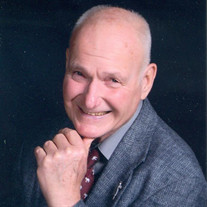 Harold Douglass Shaffer, 76, of Lawrenceville, Illinois passed away Wednesday, April 25, 2018 at Good Samaritan Hospital in Vincennes, Indiana. He was born October 9, 1941 in Lawrence County, Illinois, the son of Delmas and Marie (Vaught) Shaffer. He married Mary Cooper on March 16, 1962 and she survives.
Harold was a Lawrenceville High School graduate. He received his Bachelor's Degree from McKendree University in Lebanon, Illinois and his Master's Degree of Sacred Theology from Emory University in Atlanta, Georgia. He was a retired United Methodist Minister and a member of the Illinois Great Rivers Conference. Harold was a people person. He enjoyed traveling all over the world, fishing, gardening, bird watching, making pottery, and wood working.
Preceding him in death were his parents and two sisters, Rosa Balding and Winifred Brown.
Survivors include his wife, Mary; one daughter, Lila Shaffer-Manzo; two brothers, Robert Shaffer and wife, Shirley and Kenneth Shaffer and wife, Loretta; one sister, Marlene Provines and husband, Pete all of Lawrenceville, Illinois; and one grandchild, Marie Manzo of Tulsa, Oklahoma.
A committal service will be conducted on Saturday, April 28, 2018 at 10:30 AM CST in the Derr Cemetery and a memorial service will follow at 11:30 AM CST at Pinkstaff United Methodist Church. The family extends an invitation for you to join them after the services for a time of fellowship and lunch in the fellowship hall. In lieu of flowers, memorial donations in Harold's memory may be made to the Preacher's Aid Society and Benefit Fund of the United Methodist Church. Emmons-Macey & Steffey Funeral Home in Lawrenceville, Illinois is in charge of the arrangements.
Please visit www.emmonsmaceysteffey.com to view the tribute and to send condolences.