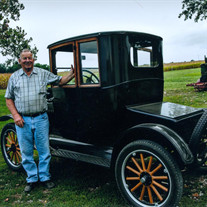 Donald D. Davis, 81, of Robinson, Illinois passed away Saturday, April 21, 2018 at his residence. He was born April 24, 1936 in Lawrenceville, Illinois, the son of Guy Robert and Olive (Prout) Davis. He married Martha Pinkstaff on July 23, 1955 and she preceded him in death on March 13, 2005. He then married Barbara Wooten-Murray on December 9, 2006 and she survives.
After graduating from Bridgeport Township High School, he attended the Greer Shop Training in Chicago. He joined the United States Army and served his country for six years. The Army sent Don to the Milwaukee School of Engineering, where he received his degree in Applied Science and Computer Electronics. He worked for Philco Ford in Houston at the Manned Spacecraft Center for two years. He then worked for Data Service Corporation, where he installed the very first computers at Golden Rule. He began farming in 1973. He and his son, Jerry, formed Davis Grain Farm, Inc in 1984 and it still continues. He attended the Robinson Free Methodist Church. His hobbies included antique cars, especially Model A and Model T Fords; as well as antique tractors.
Preceding him in death were his parents; first wife, Martha; one sister, Elizabeth Clark; and infant son.
Survivors include his wife, Barbara; one son, Jerry Davis and wife, Twila, of Lawrenceville, Illinois; two grandchildren, Michael Davis of Lawrenceville, Illinois and Ginny Hamilton and husband, Matthew, of Lawrenceville, Illinois; three great-grandchildren, Cade, Jace, and Reid Hamilton of Lawrenceville, Illinois; two brothers, Richard Davis and wife, Linda, of Bridgeport, Illinois and Larry R. Davis and wife, Linda, of Bridgeport, Illinois; two step-children, Angela Murray Weir of Robinson, Illinois and Marcus Murray of Robinson, Illinois; three step-grandchildren, Jaysen Weir, Adam Weir, and Ivy Murray; and one step-great-grandchild, Brendan Weir.
Funeral services will be Wednesday, April 25, 2018 at 1:00 PM CST at the Emmons-Macey & Steffey Funeral Home in Lawrenceville, Illinois. Visitation will be Wednesday from 11:00 AM until 1:00 PM CST at the funeral home. Burial will be in the Derr Cemetery with military rites. In lieu of flowers, memorial donations in Donald's memory may be made to The Leukemia & Lymphoma Society-Gateway Chapter or The American Cancer Society.
Please visit www.emmonsmaceysteffey.com to view the tribute and to send condolences.