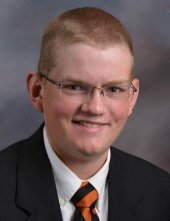 Benjamin D. Dowty, 19, of Claremont, passed away on Saturday, April 21, 2018 at Lawrenceville Memorial Hospital. He was born on March 8, 1999 in Evansville, IN, the son of Steven D. Dowty and Kristina M (Smith) Smith.
Ben was a graduate of the Class of 2017 at Richland County High School where he was active in the FFA. Ben enjoyed hunting, fishing, and any activity that was outdoors. He was a member of the Claremont Coon Club and took pleasure in going on the hunts and being a guide. Ben would mow the Coon Club property so he could get more hunts in. Ben was a proud member of the Christy Volunteer Fire Department. He had a passion for being a fireman, even as a child he would dress up as a fireman. Ben loved spending time with his family and will be sorely missed by all the lives that he touched.
Ben is survived by his mother, Kristina Smith of Olney; Father, Steve Dowty of Claremont; Brother, Tyler Dowty; Sister, Kaitlyn Dowty; Maternal grandparents, Richard and Alice Smith of Olney; Paternal grandmother, Jan Dowty of Claremont; Uncle, Dean (Samantha) Smith of Olney; Aunt, Susan (Dan) Wertman of Bristol, IN; Aunt, Sandy (Kevin) Doser of Claremont; Uncle, Scott (Michelle) Dowty of Claremont; and several cousins.
He was preceded in death by his great-grandmother, Mary Zimmer; cousin, Erik Doser; grandfather, Larry Dowty; and great grandparents, Lester and Lora Dowty.
Memorials can be made to the Christy Volunteer Fire Department.
A visitation will be held from 4:00 PM to 7:00 PM on Wednesday, April 25, 2018 at the Kistler-Patterson Funeral Home in Olney. A funeral service will be held at 10:00 AM on Thursday, April 26, 2018 at the Kistler-Patterson Funeral Home in Olney with burial following in Crest Haven Memorial Park.