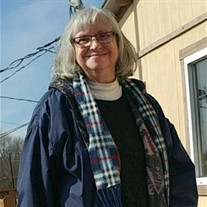 Georgia A. Dobbs, 80, of Sumner, Illinois passed away Sunday, April 15, 2018 at the same home she was born in. She was born February 13, 1938 in Sumner, Illinois, the daughter of John Wesley and Nellie (Cochran) Schultz. She married Donald L. Dobbs on October 17, 1955 and he preceded her in death on November 12, 2015.
Georgia was a homemaker. She attended the Sumner Free Methodist Church. Her hobbies included crocheting; watching soap operas, cowboy movies, and St. Louis Cardinals baseball; going out to eat; and being with her family and having family dinners.
Preceding her in death were her parents; husband; seven brothers, Russell, Wilbur, John, Alvin, Virgil, Fred, and Charles; two sisters, Lucille and Esther; one grandson, Christopher Dobbs; and one great-grandson, James Dobbs.
Survivors include one son, Daniel Dobbs and wife, Sharon, of Sumner, Illinois; five daughters, Deborah Coulter and husband, James, of Sumner, Illinois, Teresa Gerber and husband, Bill, of Bridgeport, Illinois, Trudy Duncan and husband, Brian, of Sumner, Illinois, Sandy Clark and husband, Tony, of Sumner, Illinois, and Shawn Dobbs and significant other, Paul Lopez, of Sumner, Illinois; 13 grandchildren, Dustin Emmons, Jonathan Dobbs, Crystal Dobbs, Chelsea Emmons, Harley Clark, Robert Dobbs, Robin Stork, Mykala Duncan, Mitchell Duncan, C.J Carter, Tarron Clark, Andrew Willis, and Lindsey Willis; and 29 great-grandchildren.
Funeral service will be Wednesday, April 18, 2018 at 7:00 PM CST at the Sivert-Macey & Steffey Funeral Home in Sumner, Illinois. Visitation will be Wednesday from 5:00 PM until 7:00 PM CST at the funeral home. Cremation will follow the service and burial of ashes will be in the Chauncey Cemetery at a later date.
Please visit www.emmonsmaceysteffey.com to view the tribute and to send condolences.