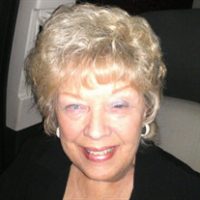 Sandra L. (Brian) Cooper, 71, of Sumner, Illinois passed away Wednesday, April 11, 2018 at Deaconess Hospital in Evansville, Illinois. She was born February 19, 1947 in Olney, Illinois, the daughter of Jack K. Brian and Mabel B. (Saye) Brian.
Sandra worked at M & J Café in Olney, the Shoe Factory in Olney, as a CNA at the Sumner Nursing Home, and at AMF in Olney until 1973. She was a member of the Central Christian Church in Sumner.
Preceding her in death were her parents and one great-granddaughter, Haylee R. Cassady.
Survivors include one son, Harry W. Cassady and wife, Ladonna, of Shelbyville, Tennessee; one daughter, Jacqueline 'Jackie' Goble and significant other, Jay Reckling, of Olney, Illinois; four brothers, Dave Brian and wife, Betty, of Sumner, Illinois, Bill Brian and wife, Margaret, of Sumner, Illinois, Ed Brian and wife, Deanna, of Lawrenceville, Illinois, and Jess Brian and wife, Joan, of Sumner, Illinois; one sister, Linda Phillips of Bridgeport, Illinois; five grandchildren, Shawn Cassady and wife, Ashley, of Shelbyville, Tennessee, Shelby Cassady and wife, Stephanie, of Shelbyville, Tennessee, Harry W. Cassady III and wife, Tiffany, of Peoria, Illinois, and Brittany Cassady and significant other, Keith Davis, of Shelbyville, Tennessee, Cassandra Stewart and husband, JJ, of Shelbyville, Tennessee; 13 great-grandchildren; and several nieces and nephews.
Funeral services will be Saturday, April 14, 2018 at 10:00 AM CST at the Sivert-Macey & Steffey Funeral Home in Sumner, Illinois. Visitation will be Friday from 6:00 PM until 8:00 PM CST at the funeral home. Burial will be in the Sumner Cemetery.
Please visit www.emmonsmaceysteffey.com to view the tribute and to send condolences.