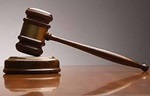 Sentencing for a Lawrenceville man convicted on multiple charges in connection with the shooting of Lawrence County Sheriff's Deputy Kyle Gilmore following a traffic stop in Lawrenceville on 

February 22nd

 of last year is scheduled for today.

 A Lawrence County Circuit Court jury deliberated for around two hours August 3rd before returning with the guilty verdict against 55-year-old Keith McKinney.  McKinney was found guilty on charges of attempted murder, aggravated battery and unlawful possession of weapons by a felon.  McKinney's sentencing has been delayed twice. He faces anywhere from 26 years to life in prison.