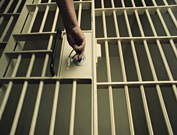 – Lawrenceville Police arrested a Newton man yesterday on drug possession charges. 37 year-old Justin Reynolds was arrested at 11th & Jefferson Streets on a charge of possession of a controlled substance. Reynolds was taken to the Lawrence County Jail.
-At 1:45 this morning, Vincennes Police arrested a man at a Hart Street business. 39-year-old Cary L. Keller was charged with Possession of Meth and Possession of a Syringe and taken to the Knox County Jail.
-A Lawrenceville, Illinois man was jailed in Knox County after his 4:45pm arrest in Vincennes yesterday.  34-year-old Christopher Raymond Lee Thomas was wanted on a warrant for a Misdemeanor Count of Conversion.  The arrest took place at 6th Street and Barnett in Vincennes.
-Vincennes Police arrested 32-year-old Courtney Lynn Marshall of Vincennes at just after 4 yesterday. She was taken into custody at Building 5 of Autumn Ridge Apartments.  She was picked up on 2 Probation Violation warrants and at the time of her arrest she was also charged with Possession of a Controlled Substance.
-State Police arrested Thasha Collins in Knox County yesterday.  She was booked into jail at 10:38 am.  She faces two counts of theft.