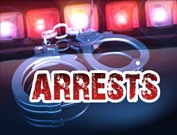 –  Lawrence County authorities arrested a St. Francisville resident yesterday following a domestic dispute.  Sheriff's deputies charged 25 year-old Dakota Brown with domestic battery. Brown was taken to the Lawrence County Jail.
-Vincennes police were called to a report of domestic battery at 8:45 last night at 1029 North 9th.  Upon investigation, 37-year-old Paul N. Barekman of Vincennes was charged with Level 6 Felony Domestic Battery and Strangulation.
-The Knox County Sheriff's Department arrested 26-year-old Kendly Baptiste for Domestic Battery Monday.  He was jailed at just before 7 last night.
-At 5:12 yesterday afternoon, 50-year-old Brent Arthur was booked into the Knox County Jail for Domestic Battery. The arrest made by VPD.
-30-year-old Lucas Stewart was arrested by Vincennes Police last night for Operating While Intoxicated.