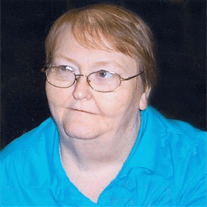 Debra Sue Campbell, 62, of Lawrenceville, Illinois passed away Wednesday, August 23, 2017 at Good Samaritan Hospital in Vincennes, Indiana. She was born January 29, 1955 in Lawrenceville, Illinois, the daughter of Sheila H. and Carrie M. (Fisher) Campbell.
Debra worked as a cook at the Lawrence County Senior Citizens Center. She enjoyed ceramics and sewing.
Preceding her in death were her parents; and two brothers, Ed Campbell and infant, Stanley Campbell.
Survivors include one brother, Carl Campbell of Lawrenceville, Illinois.
Funeral services will be Monday, August 28, 2017 at 11:00 AM at the Emmons-Macey & Steffey Funeral Home in Lawrenceville, Illinois. Visitation will be Monday from 10:00 AM until 11:00 AM at the funeral home. In lieu of flowers, memorial donations in Debra's memory may be made to the donor's choice.