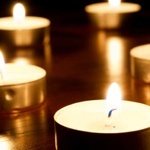 Ronnie lee Roach, 45, passed away on August 5, 2017 at his residence. Ronnie was born on May 28, 1972 the son of Ronald and Linda (Gaines) Roach.
Ronnie worked for Mize Construction doing railroad maintenance. He enjoyed Bon Fires with Kelly Sager, Steve McGuire and friends. Ronnie also enjoyed trucks and bicycles.
Survivors include his sister, Melinda Roach and her fiancé Ronnie Chambers of Vincennes; nephew, Christopher Ice; aunts, Cinda Potter and Big Al, Mary Lovellette, Diane Gaines, Brenda Earls, Deborah Watts; uncles, Billy Gaines, Ronnie Gaines; cousins, Squeak Potter, Anthony Lovellette; several other cousins and the Roach's. Ronnie was preceded in death by his parents, Ronald and Lionda Roach.
Friends may visit with Ronnie's family from 4-5 pm on Wednesday, August 9, 2017 at Goodwin Funeral Home, 524 Broadway.

 Graveside services will be held at a later date in Memorial Park Cemetery. On line condolences may be sent to Ronnie's family and friends at www.goodwinfamilyfh.com.