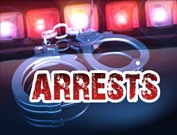 -At 8:40 last night, Vincennes police arrested Danielle S. Wilcox at the Kimmell Road Shopping plaza.  Wilcox charged with a misdemeanor count of theft.
-A traffic stop at 3:20pm Tuesday resulted in the arrest of Brianna R. Boger.  Vincennes police found her to be operating while never licensed at 9th and Broadway.
-Overnight, Jennifer Butler, 35, was arrested by VPD for theft.
-19-year-old Jordan Miles was arrested by the Knox County Sheriff's Department and jailed about 8 last night.  Miles is charged with escape from lawful detention and criminal trespassing.
-Knox County arrest reports say they arrested a man for arson Tuesday. 46-year-old Tab Burcham was jailed at 5:32pm night after being arrested by VPD on the felony warrant.