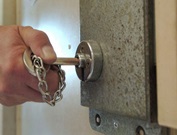 -At 6:30 last night, Vincennes Police served an arrest warrant in the 1300 block of Busseron.  39-year-old Jeremy D. Burke was wanted for two counts of theft out of Knox County Superior Court 2
-Vincennes Police worked a domestic battery case at 512 Bowman Terrace at 4:30 Thursday afternoon.  21-year-old Cloey C. Haaf was arrested on the scene for a Level 6 Felony count of Domestic Battery.
-The Knox County Sheriff's Department served several arrest warrants Thursday.  44-year-old Amy Tracey was jailed for failure to appear; 38-year-old Melinda Roach was also wanted for failure to appear; 44-year-old Gabrielle Major-Boger was wanted on a probation violation.