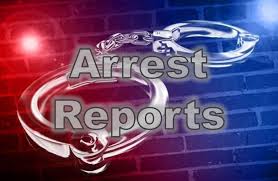 DAVIESS COUNTY ARRESTS
-Jonathan E. Acor, 36 of Washington was arrested by city police following an investigation. HE's charged with invasion of privacy, harassment, criminal trespass and public intoxication. He was booked in at 10:53 pm last night.
-Overnight, Indiana State Police arrested 51-year-old Kelly Brashear of Washington was jailed for operating while intoxicated greater or equal to .15% and for operating while intoxicated involving endangerment. No bond was set.
-An Evansville woman was jailed in Daviess County yesterday on a failure to appear warrant. 23-year-old Samantha E. Mooreman was arrested by the Sheriff's Department. Bond was set at $2000.
---
KNOX COUNTY ARRESTS
-At 5:40-pm last night at 89 Autumn Ridge Lane, police conducted a drug investigation.  Officers arrested three people including; 20-year-old Samantha T. Chestnut, 18 year old Alisa C. Chestnut and 21-year-old Zachary Bromberg.  All are charged with possession of marijuana, a Class-B misdemeanor, and Level 6 Felony nuisance charges.
-Bicknell Police arrested 38-year-old Michael Archer.  He was booked into the Knox County Jail at 10:36 last night for possession of a syringe, paraphernalia and meth.  He's also charged with maintaining a common nuisance.  Bicknell officers also took 36-year-old Shandy Wilson into custody as part of the same investigation.  She faces the same charges as Archer and she was found to be wanted on a failure to appear warrant.
-48-year-old Greg Tapley was booked into the Knox County Jail at 7:23 last night on drug charges.  The Knox County Sheriff's Department arrested him for dealing meth, possession of meth and false informing.