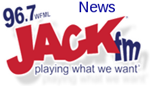 LOCAL ARRESTS
– Vincennes Police arrested 31-year-old Kimberly Bass at 1020 N 9th street yesterday afternoon. She was wanted on a probation violation.
– 28-year-old Justin C. Duval of Monroe City was arrested by city police on a traffic stop. After a search of the vehicle, Duval was taken into custody on charges of possession of marijuana and paraphernalia.
– The Knox County Sheriff's Department arrested 55-year-old John Coy just before 9 P-M last night. He is charged with contempt of court.
– 44-year-old Colleen Detty was taken into custody by the Knox County Sheriff's Department last evening. She is charged with failing to register as a sex offender.
A Vincennes man was arrested Thursday afternoon for sexual misconduct with a minor. 26-year-old Lorenzo Jimenez Ruiz was located in the 16-Hundred Block of Willow Street and taken to the Knox County Jail. Ruiz also faces an additional charge of resisting law enforcement. The Daviess County Sheriff's Department assisted with the investigation,
USDA GRANT GIVEN TO PANTHEON EFFORT
The City of Vincennes has received money to be used towards the former Pantheon Theatre in downtown Vincennes.
The Rural Business Development Grant totaling $77,000 comes from the U.S. Department of Agriculture and will be used to put a new roof on the theatre. The grant itself is designed to encourage the growth and development of small, private businesses that are looking to expand. The grant is reimbursable, meaning that the city will spend money on the project, and then be reimbursed by the USDA. The entire project itself is expected to cost between $80-to-90,000. Anything over the $77,000 mark will be covered by INVIN.
Ellen Harper, Executive Director of INVIN, who owns the property, says that their first priority is to stop further deterioration of the building, and repairing the roof is a big step towards doing that.
The Pantheon is currently being converted into an "incubator" for future and developing businesses in the area. The former theatre will now be known as the Pantheon Business Theatre moving forward.
A ceremony held to celebrate the receiving of the grant will be held at City Hall on Monday, March 13th at 10:00 a.m. to finalize the grant.
CIGARETTE TAX STILL ON THE TABLE
The leader of the Indiana House says he is willing to back down at least partially on a proposed $1 cigarette tax increase.
Tobacco and convenience store trade groups have opposed the increase the House endorsed last month, along with many Republicans in the state Senate. They maintain the increase would hurt business by encouraging smokers to cross state lines to buy cheaper cigarettes.
Republican House Speaker Brian Bosma said Thursday that he's willing to curtail the increase to about 60 cents. He says that would bring cigarette taxes in line with neighboring Ohio.
The measure is just one of several tax increases House Republicans have proposed this year to help cover the costs of a long-term infrastructure funding plan.
BIRD FLU IN TENNESSEE HAS POULTRY FARMERS STEPPING UP PREVENTION EFFORTS
The detection of a highly pathogenic strain of bird flu at a Tennessee chicken farm has Midwest poultry farmers tightening procedures in an attempt to prevent an outbreak like the one in 2015 that required the destruction of millions of birds and cost at least $3 billion.
Milder forms of bird flu have also been found in Wisconsin and at another farm in Tennessee, though no further cases have been reported in the U.S. so far.
The U.S. Department of Agriculture announced Sunday that a highly pathogenic form of bird flu was confirmed at a Tennessee chicken farm that supplies Tyson Foods. Officials quickly moved to kill the entire flock to prevent the virus from spreading.
Producers have stepped up biosecurity in response.