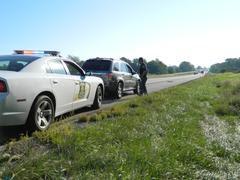 Motorists across Indiana will want to make sure, as they always should to not drink and drive and obey all traffic and safety restraint laws.
This month, Indiana State Police are joining local law enforcement officers across the state as they work to increase education and enforcement around impaired and dangerous driving with high visibility patrols designed to identify and intercept those who drive aggressively or are impaired by alcohol or drugs.
State police officials say there are lots of celebrations going on this month in part due to basketball tournaments and St. Patrick's Day.  They say it's important to remind drivers and passengers that the responsibility of staying safe on the road lies at their feet.
In March of last year, stats show that there were over 1100 collisions due to dangerous driving like speeding, distracted or fatigued driving.  Those crashes resulted in 260 injuries and two fatalities. Impaired driving was the cause of 495 crashes last March resulting in over 230 injuries and 11 fatalities.