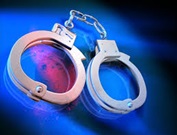 DAVIESS COUNTY
-A Pike County man was booked into the Daviess County Security Center overnight.  22-year-old Steven R. Booher of Winslow was wanted on a petition to revoke a suspended sentence.  Bond was set at $10,000 and bond was posted.
KNOX COUNTY
-At 11:38 last night, Vincennes police made a traffic stop in the 200 block of State Street.  They arrested 63-year-old Stevie Wayne Shamblin of Vincennes for felony possession of meth and a failure to appear warrant out of Knox County.
-18-year-old Luke Baily was jailed at 12:18 am today for illegal consumption of alcohol. He was arrested by VUPD.
-19-year-old Bryant Minor was arrested by VUPD overnight for fraud and false informing.  He was booked in at 1:30am.
-The Knox County Sheriff's Department arrested 18-year-old Robert Wilson overnight.  He was jailed at 12:36-am for operating a vehicle with a controlled substance and possession of paraphernalia.
-Vincennes Police arrested 38-year-old Natalie Fields on a Sullivan County warrant yesterday evening.
-Knox County authorities picked up 26-year-old Kassie Fields on a contempt of court warrant yesterday.
-22-year-old William Wheeler was arrested by the sheriff's department on a failure to appear warrant yesterday.